Application Control Capabilities
Limit Attacks Without Impacting Productivity
User management mitigates risks
Balance User Productivity and Security
Application Control lets you tightly manage what users can do on endpoints and servers to mitigate the risks of zero-day exploits and malware. Locking down access may reduce productivity, but leaving access open increases the attack surface, downtime, and management costs—and potentially breaches licence compliance. You must be able to enforce security policies at a granular level while still balancing user access with productivity needs.
The Application Control capabilities available in Ivanti Security Controls provide secure privilege management and dynamic whitelisting.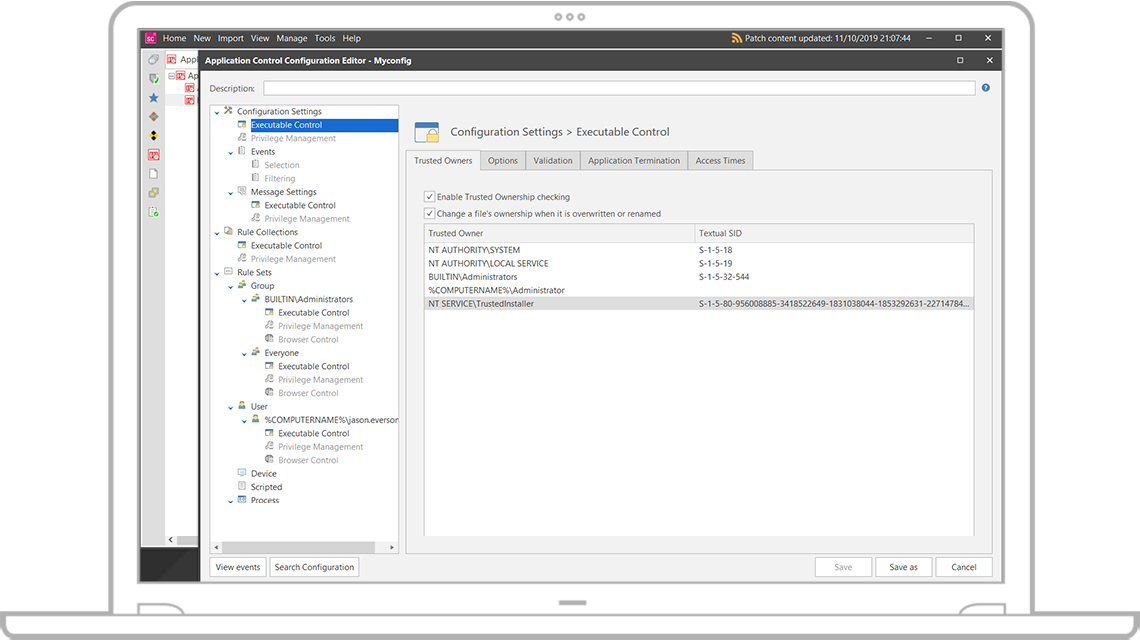 Privilege Management
Providing users with full admin rights can leave endpoints vulnerable to the installation of ransomware and unlicensed software. Application Control enables you to raise, lower, or eliminate privileges dynamically.
Elevate or Restrict Privileges
For specific apps, or tasks users need.
Self-Elevation
Enable self-elevation for exceptional occurrences.
Track Access
Track and control the use and assignment of privileges.
Discovery Mode
Identify which users require which privileges.
Application Whitelisting
Offers a significant reduction in management overhead over traditional whitelisting techniques. Ivanti's Trusted Ownership ensures the owner of a file is checked against a list of trusted owners to determine whether it's allowed to run.
Prevent unauthorised code execution without IT teams needing to manage complex scripts and manually maintain lists.
Flexible Policy Creation
Ensure only trusted apps can execute.
Prevent Modified App Execution
Use hashes or certificates.